Shell: A Novel (Hardcover)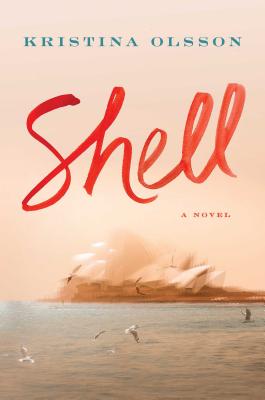 Description
---
"A luminous look at a city at a time of change, a time when the building of the Sydney Opera House was a reach for greatness." —The New York Times

In this spellbinding and poignant historical novel—perfect for fans of All the Light We Cannot See and The Flamethrowers—a Swedish glassmaker and a fiercely independent Australian journalist are thrown together amidst the turmoil of the 1960s and the dawning of a new modern era.

1965: As the United States becomes further embroiled in the Vietnam War, the ripple effects are far-reaching—even to the other side of the world. In Australia, a national military draft has been announced and Pearl Keogh, a headstrong and ambitious newspaper reporter, has put her job in jeopardy to become involved in the anti-war movement. Desperate to locate her two runaway brothers before they're called to serve, Pearl is also hiding a secret shame—the guilt she feels for not doing more for her younger siblings after their mother's untimely death.

Newly arrived from Sweden, Axel Lindquist is set to work as a sculptor on the besieged Sydney Opera House. After a childhood in Europe, where the shadow of WWII loomed large, he seeks to reinvent himself in this utterly foreign landscape, and finds artistic inspiration—and salvation—in the monument to modernity that is being constructed on Sydney's Harbor. But as the nation hurtles towards yet another war, Jørn Utzon, the Opera House's controversial architect, is nowhere to be found—and Axel fears that the past he has tried to outrun may be catching up with him.

As the seas of change swirl around them, Pearl and Axel's lives orbit each other and collide in this sweeping novel of art and culture, love and destiny.
About the Author
---
Kristina Olsson is a journalist and the award-winning author of the novels Shell, In One Skin, and The China Garden, and two works of nonfiction, Boy, Lost: A Family Memoir and Kilroy was Here. She lives in Brisbane, Australia.
Praise For…
---
Praise for Shell:

"A luminous look at a city at a time of change, a time when the building of the Sydney Opera House was a reach for greatness."

"Olsson masterfully captures the different cultures [the protagonists] come from...Olsson's writing is beautiful, captivating, and is enough in itself to recommend this book."

"A beguiling, original, and beautifully written imagining of Sydney of the sixties. "
— Gail Jones, award-winning author

"A beautifully crafted novel about a fascinating time in our history. There is a luminous precision in every sentence."
— Heather Rose, award-winning author of The Museum of Modern Love

"This narrative of war and hope, architecture and yearning, and old and new world, makes Shell a novel of energy and enlightenment, and, to boot, a source of delightful reading."
— Thomas Keneally

"War, architecture, guilt, salvation, politics – this book has a little bit of it all...A fascinating look at Australia during the Vietnam War, the creation of the Sydney Opera House, and the ever-present battle between the violence of war and the beauty of art. Recommended."

"Olsson's subtle and nuanced tale displays how deeply the past—or at least one's perception of it—informs life in the present."

"Olsson's American debut features lyrical writing that brings the cultural upheaval of 1960s Australia vividly to life, and readers who appreciate leisurely paced, thoughtful literary fiction will savor each word of this emotional story of two people—and a country—reckoning with their past and future."

"A contemplative story of personal guilt and political upheaval."

"Evocative, learned, and moving."

"The prose of Shell has a sensory aesthetic and a gentle fluidity, even when skewering Australia's old guard."

"Shell is a masterful novel. Olsson brings to vivid life a country at the precipice of self-awareness, at a moment of intellectual and ethical schism that will define its place in the wider world, and she does this brilliantly through intensely moving and personal stories of love and loss, of morality and betrayal. As ethereal, shimmering, and magical as the book's beating heart, the Sydney Opera House, it is fair to say that Shell shares the architectural masterpiece's majesty."


— Matthew Condon, award-winning author of The Trout Opera and Three Crooked Kings

"An ambitious canvas, a complex and provocative novel of ideas."

"The story of the construction of the Sydney Opera House, undeniably one of the 20th century's great buildings, is one fraught with paradoxes and rich with wider context...this is a novel with a sharp eye, a warm heart and sprawling ambitions, painted on the most splendid canvas of all."

"Like a melody that resonates long after the song ends, Shell is one of those rare books that lingers in the reader's mind weeks after finishing the final page."

Praise for The China Garden:

"Olsson is a gifted writer with considerable verbal flair."

"Olsson's transformational novel is as inspiring, as moving, as elevating as Utzon's transformational edifice. In its honoring and celebration of people, place, and principle, Shell sanctifies the greatest of our ideas and being, from love, courage and betrayal to creation and dissent. This book carried me along through stunning sentences to a space beyond of beauty and sadness, the potential of art, and the most moving of human intentions. It's the kind of book that opens out its readers, making them think and feel. It's the kind of book I'll carry with me for all time."
— Ashley Hay, author of A Hundred Small Lessons

"Olsson takes her time with this story, the characters are lovingly developed, the story carefully unfurled. The landscape and weather are also perfectly captured and are an integral part of the novel, almost as characters in their own right."

"Olsson shows great skill and delicacy."

"A closely observed, carefully paced and tastefully produced work of fiction."

"A heartwarming and realistic tale."

"The China Garden will suit literature lovers who enjoy slow, steady reads with intriguing characters."

Praise for Boy, Lost:

"A compelling story of a family torn apart by poverty and abuse, evocatively told by a gifted writer."

"An intelligent and deeply serious book about lives full of pain."

"Exquisitely written and achingly intimate, this is a significant book which sets a new benchmark for memoir."
— Judges' comments, Queensland Literary Awards

"A compassionate and sensitive entwined narrative of a lost son and lost mother, this book – by virtue of Olsson's writing – soars above the conventions of its genre. This unflinching story is gripping, moving, and a testament to the tenacity of the human spirit."
— Judges' comments, Victorian Premier's Literary Awards

"An excoriating yet careful memoir of a stolen boy and everything wrought by this act."

"Much of the power of this book lies in the way that it reflects the fates of all children lost to a parent or parents, and that lifts it beyond the level of merely personal memoir to give it some of the force of fable and folktale."
— Judges' comments, Stella Prize

"Moving and insightful … a devastating portrait of 1950s Australia."