Assorted Fire Events: Stories (Paperback)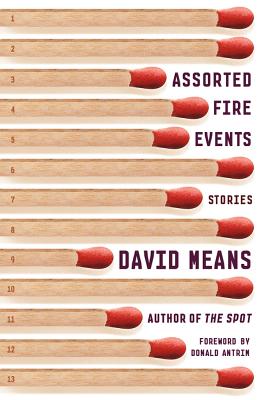 Description
---
Upon its publication, Assorted Fire Events won a Los Angeles Times Book Prize, was nominated for a National Book Critics Circle Award, and received tremendous critical praise. Ranging across America, taking in a breathtaking array of voices and experiences, this story collection now stands as one of the finest of our time.
About the Author
---
David Means
was born and raised in Michigan. His second collection of stories,
Assorted Fire Events
, earned the
Los Angles Times
Book Prize for fiction and a National Book Critics Circle nomination. His third book,
The Secret Goldfish
, received widespread critical acclaim and was shortlisted for the Frank O'Connor International Short Story Prize. His fourth book,
The Spot
, was selected as a 2010 Notable Book by
The New York Times
, and won an O. Henry Prize. His books have been translated into eight languages, and his fiction has appeared
The New Yorker
,
Harper's Magazine
,
Esquire
,
Zoetrope
,
The Best American Short Stories
,
The Best American Mystery Stories
,
The O. Henry Prize Stories
, and numerous other publications. He lives in Nyack, New York, and teaches at Vassar College.
Donald Antrim is the critically acclaimed author of Elect Mr. Robinson for a Better World, The Hundred Brothers, and The Verificationist, as well The Afterlife, a memoir about his mother. A regular contributor to The New Yorker, he has also been the recipient of a MacArthur "Genius" Grant and fellowships from the John Simon Guggenheim Memorial Foundation, the National Endowment for the Arts, and the New York Public Library. He lives in New York City.  
Praise For…
---
"Assorted Fire Events is one of the best American collections of the last ten years. Means's stories are harrowing and funny and full-blooded, consistently satisfying in their narrative twists, and lyrical in a way that makes most contemporary literary 'lyricism' sound like greeting cards. This is food for the hungry." —Jonathan Franzen, author of Freedom
"The roll-call of honor, from Eudora Welty to John Cheever, John Updike, William Maxwell, to Richard Ford, Tobias Wolff, and Annie Proulx, is long and rich. Just when it seems that things could get no better, along comes David Means." —Eileen Batersby, The Irish Times
"It is Means's signature talent to view the lives of his characters, and life itself, from somewhere just beyond, in a position of maximum understanding and honorable detachment: a semidivine vantage point for the examination of hopelessly human affairs." —Jeffrey Eugenides, author of The Marriage Plot
"Achingly intelligent . . . With his jump-cut shifts, startling connections and breathtaking disconnections, the author stands among our most gifted younger writers. Distinctively, though, he anneals his cutting-edge irony into a compassionate anger that goes beyond the literary times. In a word he might disdain to use, it is timeless." —Richard Eder, The New York Times